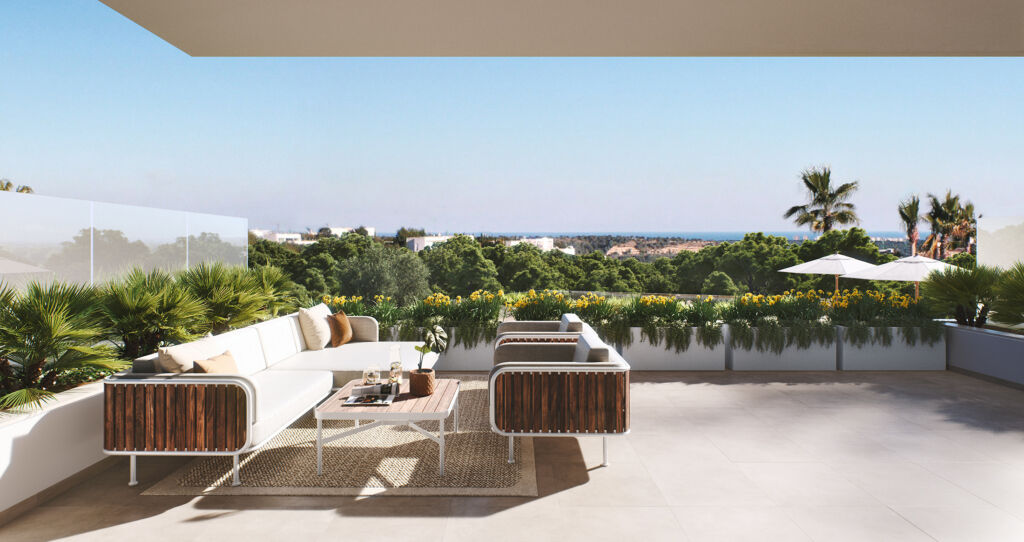 The Limonero Community gives birth to a new phase of flats at Las Colinas Golf & Country Club: Verna Apartments.
Apartments designed to enjoy the sun, views of the sea and the resort's own imposing golf course.
The new phase consists of two blocks, the three-bedroom flats are defined as penthouses from 134.90 m2 of living space with a huge solarium; the ground floor flats from 100.59 m2 with a private and cosy garden; and on the other hand, the remaining two and three-bedroom flats with a living space from 67.85 m2 . There are two bathrooms per flat, one of which is integrated in the master bedroom. On the other hand, spaciousness is shared throughout the house integrating living-dining-kitchen area.
The communal areas consist of a communal swimming pool, garage, storage rooms and a lift adapted to reduced mobility. In addition, the orientation is east and west influencing sunlight throughout the day.
Legal disclaimer: some images may be computer-generated infographics for illustrative purposes only and are non-binding. The final design may be subject to change. The furniture and appliances shown are purely decorative and are not included in the home.